PROPAGAÇÃO IN VITRO DE PLANTAS BY PROF. AUGUSTO PEIXE (JAN. 2018)
Prevendo-se para as próximas 3-4 décadas a necessidade de aumentar a capacidade produtiva agrícola em mais de 50%, de modo a fazer face às necessidades crescentes de alimentos, é fundamental poder contar-se com materiais de propagação de qualidade e em quantidade. Para as plantas em que a propagação por semente não é uma alternativa, a cultura in vitro de tecidos vegetais apresenta-se no momento como a solução mais eficiente para conseguir a sua propagação vegetativa. A técnica permite produzir, independentemente das condições ambientais, grandes quantidades de plantas totalmente isentas de agentes patogénicos endógenos, e, por isso mesmo, constitui-se já hoje uma mais-valia ao nível da atividade produtiva nos viveiros de plantas em todo o mundo.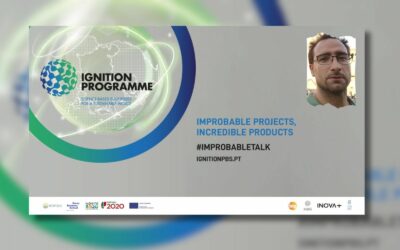 Bruno Medronho, MED-UAlg researcher, was invited by Porto Business School to take part in the "Improbable talks" initiative as part of the Ignition Programme. This multidisciplinary programme is directly linked to R&D activities and its mission is to prepare...