Bruno Medronho, MED-UAlg researcher, was a guest at the Ignition Program where he spoke about methodologies for the valorization of agroforestry waste
Bruno Medronho, MED-UAlg researcher, was invited by Porto Business School to take part in the "Improbable talks" initiative as part of the Ignition Programme. This multidisciplinary programme is directly linked to R&D activities and its mission is to prepare participants to launch their own start-ups, both university spin-offs and market-oriented companies. Bruno Medronho spoke about his work on developing new methodologies for valorising agroforestry waste (e.g. cellulose and lignin) and creating biomaterials based on the compounds extracted from this waste, such as resins, films, foams and fibres. Joana Paiva, a scientist and entrepreneur in the field of biomedical sciences, joined the conversation and spoke about her experience of patenting new discoveries and exploring the world of business.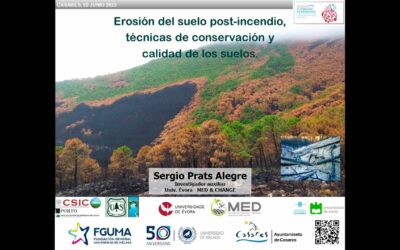 MED Researcher Sergio Prats was a guest speaker at the VI FGUMA Heritage Days in Casares: "Mediterranean hill management in the current context: a paradigm shift" Casares (Málaga), 2-4 June 2023. The lecture he presented ("Post-incendio soil erosion, conservation...