PEPE AROMAS: NOVO EMPRESÁRIO AGRÍCOLA NO PROJETO NEWBIE
A Pepe Aromas, uma exploração agrícola familiar instalada nas Herdades da Azinheira e do Sobral, em Évora, dedica-se à produção e comercialização de Opuntia Ficus Indica (figo-da-índia), e dos seus sub-produtos.
A Rede Rural Nacional conversou com os proprietários Susana Mendes e José Ferrão sobre o projeto biológico e sustentável que se encontram a desenvolver e da sua participação no Projeto NEWBIE na qualidade de "Novo Empresário Agrícola".
A equipa da RRN, No âmbito deste projeto, entrevistou a investigadora-coordenadora, Prof.ª Teresa Pinto Correia, que faz um ponto de situação do NEWBIE e perspetivas futuras.
O Projeto NEWBIE (New Entrant netWork: Business models for Innovation, entrepreneurship and resilience in European agriculture) é constituída por uma rede de 10 parceiros Europeus, entre consultores agrícolas, investigadores e ONG's e procura aliar a inovação e a investigação científica no apoio a novas empresas, com o objetivo de desenvolver e disseminar novos modelos de negócio junto de novos empresários agrícolas.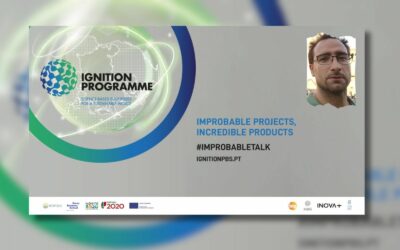 Bruno Medronho, MED-UAlg researcher, was invited by Porto Business School to take part in the "Improbable talks" initiative as part of the Ignition Programme. This multidisciplinary programme is directly linked to R&D activities and its mission is to prepare...