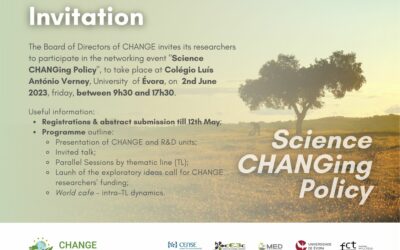 **New Registration Deadline :: Invitation to PhD Students** The Associate Laboratory CHANGE - Global Change and Sustainability Institute invites all Researchers (including PhD Students) to participate in the networking event Science CHANGing Policy, to take place on...
Model-It-2023 | VII International Symposium on Applications of Modelling as an Innovative Technology in the Horticultural Supply Chain
After the last successful edition in Molfetta (Italy) the 7th edition of Model-It, the International Symposium on Applications of Modelling as an Innovative Technology in the Horticultural Supply Chain will be held at the Leibniz Institut for Agricultural Engineering and Bioeconomy in Potsdam, Germany. 
The symposium will serve as a meeting place for research and industry, facilitating the application and dissemination of models throughout the value chain while enhancing knowledge transfer within different application areas.
Deadlines & Dates
Abstract submission (extended) by Feb 15, 2023
Notification of acceptance by Feb 28, 2023
Full text submission deadline by May 31, 2023
Registration HERE . More information at the website of the event. 
III International Congress on Education in Animal Sciences – ICEAS
The ICEAS'23 congress will be held on June 15th – 16th, 2023 at the Faculty of Veterinary Medicine, University of Zagreb, Croatia, with the topic "Alternatives to practices with live animals".
The ICEAS – International Congress on Education in Animal Sciences, held by the International Association of Education in Animal Science (ISEAS), intends to be an excellent forum for educators, researchers, and practitioners to exchange ideas, opinions, and above all experiences and research results relating to the preparation of students, teaching and learning methodologies and processes.
Important dates:
Submission of abstracts – April 15th 2023
Early registration – May 10th 2023
Notification of acceptance of the abstract – May 15th 2023
More information is available at the event's website HERE.
IUFRO Online Conference "Agroforestry systems in the world: differences and similarities"
The  IUFRO – International Union of Forest Research Organizations Research Group 1.04.00 – Agroforestry invites all colleagues to participate in the online conference Agroforestry systems in the world: differences and similarities that will be on 26-27 July 2023.
The goals of this conference are to analyse and discuss the concepts, productions and their ranking, the species and the strand structure, the management options, the modelling and the practice of agroforestry systems. Download the flyer of the conference for all details HERE.
Registrations are free but mandatory, please fill in this form: https://forms.gle/j3F3FDQoKTzSC6Kw8, until 10 of July 2023!
To make a presentation please use the template (download it HERE) and e-mail it to acag@uevora.pt and swoyambhu_amatya@yahoo.com, until 10 of July 2023. Notifications of acceptance and presentation schedule will be sent by 20 of July 2023.
Is you have any questions about your participation in this meeting, contact Ana Cristina Gonçalves (acag@uevora.pt) or Swoyambhu Man Amatya (swoyambhu_amatya@yahoo.com).
Looking forward to see you,
The Organisation:
Ana Cristina Gonçalves, MED, University of Évora, Portugal
Swoyambhu Man Amatya, Faculty of Forestry, Agriculture and Forestry University, Nepal;
Sanjeev Chauhan, Department of Forestry & Natural Resources, Punjab Agricultural University, India
John Parrotta, United States Forest Service Research & Development, United States of America
16th EAS Basic Course on Aerobiology
The 16th edition of the basic course on aerobiology, which will be held from 4 to 8 September 2023 in Évora, will cover the following topics:
Botanical introduction to pollen development and morphology
Phenology & pollination
Methods & quality control for sampling airborne bioaerosols
 Dynamics of pollen dispersal and transport
Forecasting & modelling
Applied time-series statistics
Pollen allergens and cross-reactivity
Identification of airborne pollen & fungal spores with practical exercises on light microscopy
Basic courses on Aerobiology are organized every two years by European Aerobiology Society (EAS). They have been devised as a result of the growing interest in monitoring airborne particles. The increasing number of national aeroallergen networks that have been set up has enabled scientist to compare procedures and deepen fundamentals of monitoring techniques. Consequently, the need for a higher quality level of analysis and for a standardization of procedures has emerged. To the purpose, a state-of-the-art educational program to train scientists, technicians and laboratory workers has been brought forward and was started with a series of European courses in aerobiology.
This 16th edition of the course will be limited to 25 participants. Registrations and more information HERE.
XL CIOSTA & CIGR SECTION V INTERNATIONAL CONFERENCE at University of Évora
The International Conference CIOSTA 2023, promoted by CIOSTA – Commission Internationale del'Organisation Scientifique du Travalen Agriculture & CIGR – International Commission of Agricultural and Biosystems Engineering, will take place at the University of Évora, between 11 and 13 September 2023.
Under the theme "Sustainable Socio-Technical Transition of Farming Systems", the XL CIOSTA will be the ideal forum for knowledge sharing, discussion and generation of new ideas on the topics in which Agriculture, an essential activity for Humanity, is most directly involved nowadays. It will also offer the opportunity for colleagues who have not seen each other for some time to get together, as well as to meet new colleagues, particularly those at the beginning of their academic and research careers. In addition, the Conference emphasises a holistic and sustainable approach to designing and improving systems and promotes cooperation between scientists, technicians, consultants and producers worldwide.
Important dates:
March 15th: Abstract submission opening
June 15th: New deadline for abstract submission
All information is available on the event website: https://ciosta2023.pt/