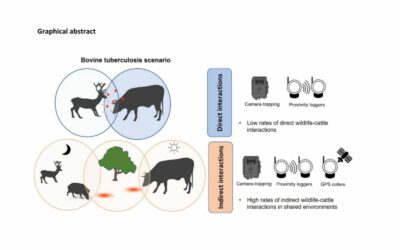 A review study recently published in the scientific journal "Mammal Review" revealed important discoveries about the interactions between wild mammals and domestic livestock, and their relevance to the risk of transmission of Bovine Tuberculosis worldwide. The...
AgriFood Open Day - Soil Microbiology Mini-Conference
The AgriFood Open Day – Soil Microbiology Mini-Conference will take place on 19 October 2023, in Arruda dos Vinhos. The Soil Microbiology Mini-Conference strives to present cutting-edge research on the role and impact of soil microbiota in soil health and productivity. Organizers invite all to participate and submit abstracts on the following topics:
Soil microorganisms and plant nutrition
Soil microorganisms as biocontrol agents
Soil microorganisms in adaptation to stress
Soil Biodiversity
Role of microorganisms in soil carbon sequestration
There is a particular interest in abstracts that employ diverse methodologies, including empirical research, case studies, policy analyses, and conceptual frameworks, to shed light on the challenges, opportunities, and potential solutions for creating sustainable food systems. Submissions that offer interdisciplinary perspectives, propose innovative solutions, or present practical applications for policymakers and industry stakeholders are particularly encouraged.
Submission Guidelines:
Abstracts should not exceed 250 words.
Include the title, author(s), affiliation(s), and contact details with your submission.
Submit your abstract here by September 23rd.
Notifications of acceptance will be sent by September 30th.
More information here
IUFRO Forest Environment DIV 8 Conference 2023
SAVE THE DATE! The next conference of the Forest Environment Division of the IUFRO – International Union of Forest Research Organizations  will be held in Évora, Portugal!
[Abstract submission deadline: 31st March 2023]
The IUFRO Forest Environment DIV 8 Conference 2023 will be between 24th and 27th of October 2023 at the University of Évora with the support of MED.
The conference will focus on the critical role of forested landscapes facing pressures driven by the Antropocene. Many of the increasing challenges require approaches at different spatial and temporal scales to increase understanding about the different ongoing processes and their consequences for ecological and socio-ecological systems to find well-suited solutions towards increasing sustainability.
Key thematic topics include:
Human-nature relationships to support sustainable forested landscapes;
Innovative Tools, Methods and Approaches to improve decision-support and monitoring systems (e.g., coupling models, remote sensing, spatial tools, terrestrial sensors);
Global change, vulnerability and adaptive management of forested landscapes – How to manage increasing pressures and threats above the current resilience tipping points;
Socio-ecological approaches integrating ecosystem services, forest management and governance models;
Silvopastoral systems and sustainable integrative solutions at the landscape level.
The IUFRO Forest Environment DIV 8 Conference 2023 website is already online! Stay tuned https://www.iufro2023.uevora.pt/
First International Conference on Food Security in the Mediterranean Region
Agriculture and food production are crucial sectors that play an essential role in providing food security and nourishment to our ever-growing global population. This Congress aims to bring together leading researchers, industry experts, and policymakers to exchange knowledge and ideas on the latest advances in agrifood research and innovation. The event provides a unique opportunity to discuss challenges facing the industry, explore emerging trends, and identify solutions to the complex issues related to food industry. 
Important dates
Abstract submission deadline: 30th September
Abstract acceptance: 15th October
Conference registration: 16th October to 31st October
Deadline for payment of the fee: 31st October
Conference dates: 28 and 29 November, 2023
Deadline for submission of full papers for publication: 31st January 2024
More information at https://www.fosamed.eu/first-international-conference-on-food-safety-in-the-mediterranean-region/
ECM 2023 | The 2nd International Electronic Conference on Microbiology
The 2nd International Electronic Conference on Microbiology (ECM 2023) will be hosted online by: ECM2023.sciforum.net between 1st and 15th December 2023.
ECM 2023 offers a forum for engaged researchers and will serve as a platform for advancing the state of the art in microbiology. This electronic conference enables attendees to present their newest research results, directly chat to exchange ideas with their colleagues, or have online question and answer sessions.
Submit your abstract until 30th June 2023.
Marta Laranjo, MED's Researcher is part of the Event Committee.