Advanced Microscopy and Flow Cytometry Unit (UMACiF)
Team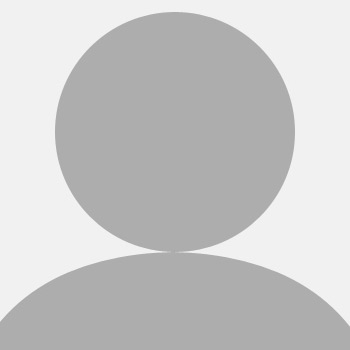 Head
Luís Manuel Cardoso Vieira Alho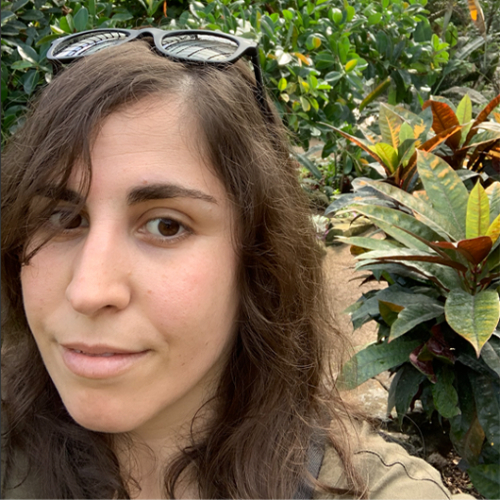 Researcher
Esther Menendez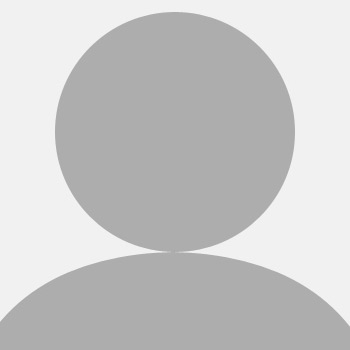 Senior Technician
Isabel J. P. G. Velada
Contacts
 266 760 885 (ext. 44114)*
 Unidade de Microscopia Avançada e Citometria de Fluxo (UMACiF)
Universidade de Évora, Pólo da Mitra, Edifício Santos Júnior, Sala 222-A, Apartado 94, 7006-554 Évora, Portugal
* Call cost to Portugal landline
EQUIPMENT
Leica DM6000B Microscope: automated upright research microscope equipped with transmitted light axis and incident light axis. The microscope allows to use the main transmitted light contrast methods (bright field, dark field, phase contrast) as well as fluorescence microscopy. Objectives: 5X (air), 10X (air), 40X (air), 63X (air).
Leica LMD6500 Laser Microdissection System: based on an upright research microscope (Leica DM6000 B, see above) it enables to isolate specific areas of soft tissues (e.g. from plant or animal tissue sections) from single cells or cell groups in a contact- and contamination- free manner. The dissected material is then directly accessible for further analyses (e.g. DNA, RNA, protein analyses). Equipped with a UV laser (355 nm). Software: Leica Laser Microdissection V 7.5.
Leica TCS SPE Confocal System: based on a Leica DMI4000B inverted microscope, it includes 4 laser lines (405, 488, 532 and 635 nm). Objectives: 5X (air), 10X (air), 40X (oil), 63X (oil). Software: Leica LAS AF.
Sysmex CyFlow Cube 8 Flow Cytometer: equipped with 2 lasers (blue laser 488 nm and red laser 638 nm). Optical filters: 536nm/40, 590nm/50 e 675nm/20.
Microtome: for cutting tissue sections (2 – 60 um) of tissues (plant or animal tissue) from paraffin embedded tissue blocks
Cryostat microtome: for cutting tissue at low temperatures (typically around −15 to −30°C).
RESEARCH SUPPORT
UMACiF collaborates with the following research projects:
EXTERNAL PUBLICATIONS IN WHICH OUR EQUIPMENT WAS USED
IMAGES ACQUIRED WITH OUR EQUIPMENT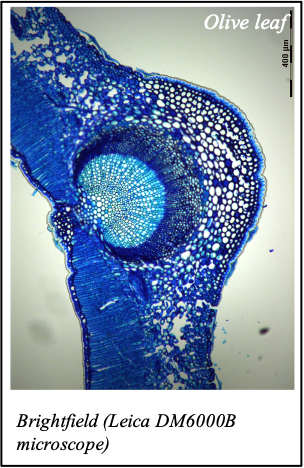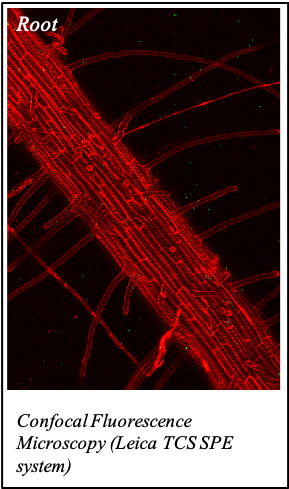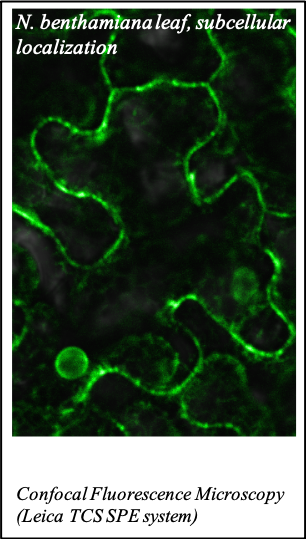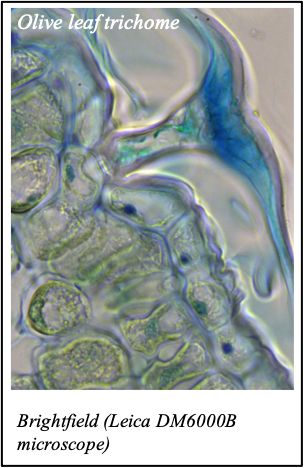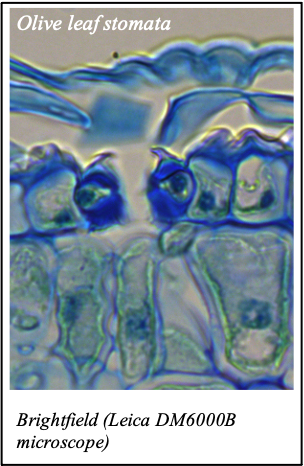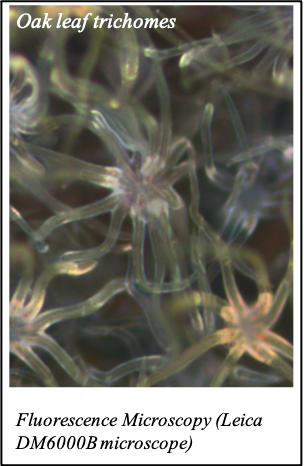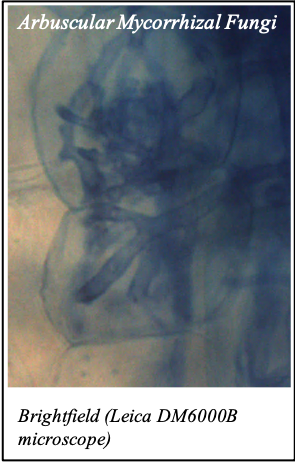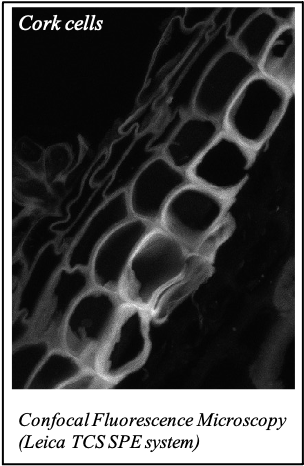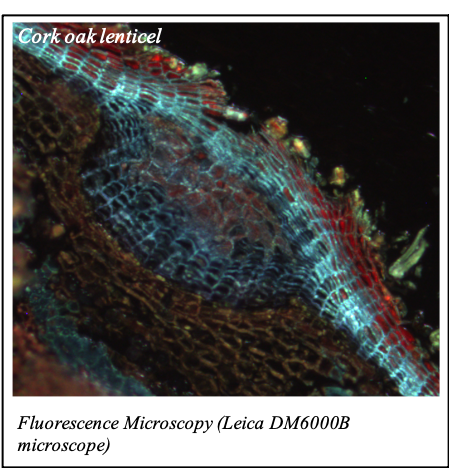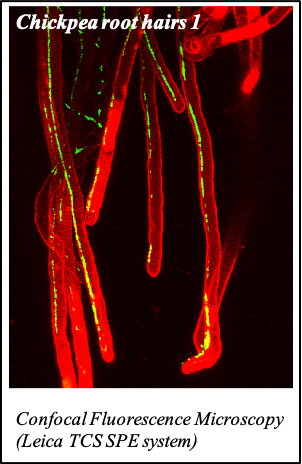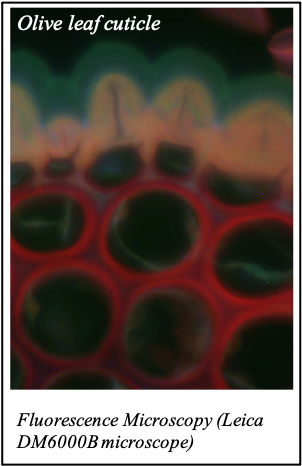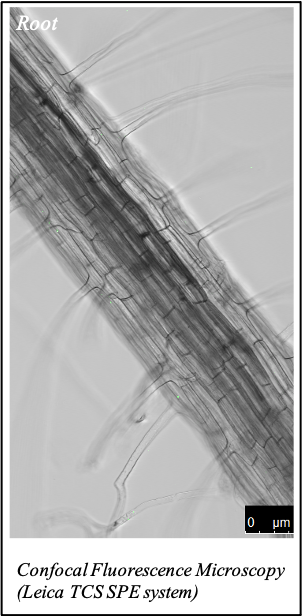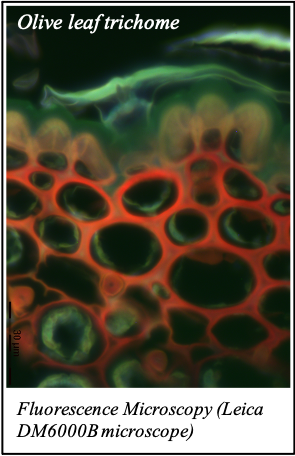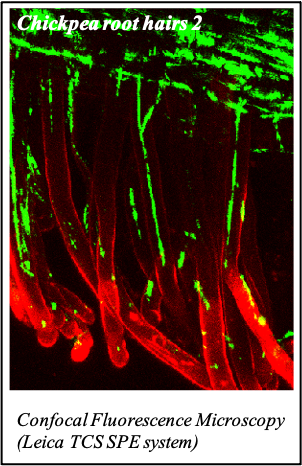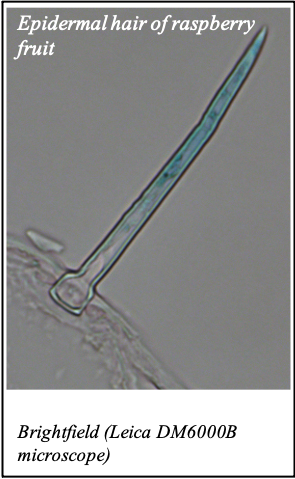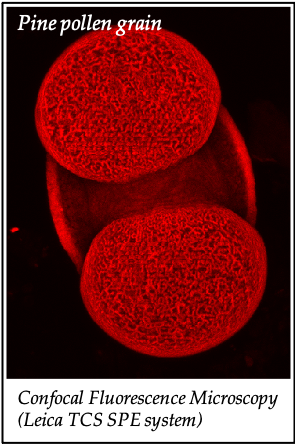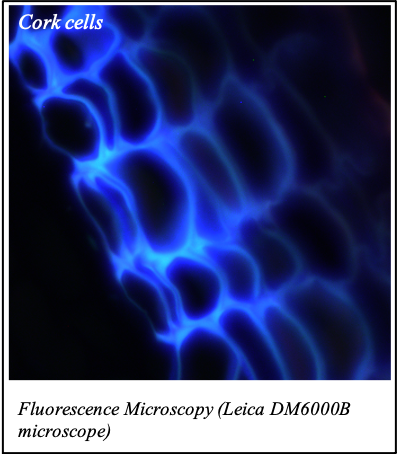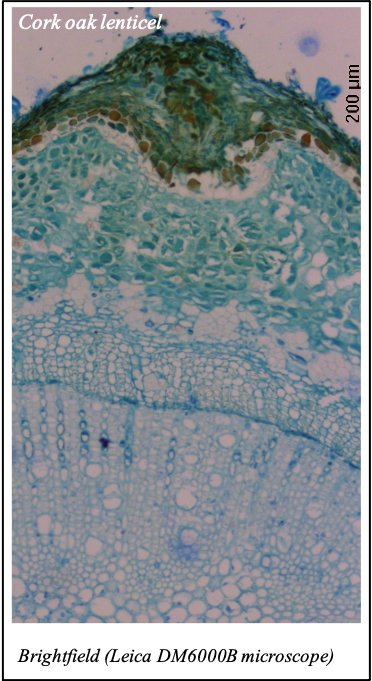 We gratefully acknowledge the following scientists for providing images and/or biological material:
'Chickpea root hairs 1' and '2', 'Root' (Dr. Clarisse Brígido and Dr. Esther Menéndez), 'N. benthamiana leaf, subcellular localization' (Dr. Cláudia Vicente Letras and Dr. Margarida Espada), 'Cork cells', 'Cork oak lenticel', Cork oak sprig' (Dr. Ana Poeiras), 'Oak leaf trichomes' (Hugo Ribeiro, MSc), 'Olive leaf' (Prof. Renato Coelho), 'Epidermal hair of raspberry fruit' (Prof. Cristina Agulheiro), 'Arbuscular Mycorrhizal Fungi' (Prof. Isabel Brito), 'Pine pollen grain' (Dr. Elsa Caeiro).
HOW TO ACCESS TO OUR EQUIPMENT
Please contact Isabel Velada (ivelada@uevora.pt)
TEACHING SUPPORT
UMACiF collaborates in the following curricular units:
2021/2022: Project in Biological Sciences II (BIO12416L), degree in Biology (0602/9011), University of Évora.
2021/2022: Anatomy and Plant Histology (BIO12346L), degree in Biology (0602/9011), University of Évora.
2020/2021: Anatomy and Plant Histology (BIO12346L), degree in Biology (0602/9011), University of Évora
National Roadmap for Research Infrastructures (RNIE)
UMACiF integrated the expression of interest proposal to the FCT regarding the National Roadmap for Research Infrastructures (RNIE) with the proposed research infrastructure:
Portuguese Flow Cytometry - PT-FlowCyt
Institution / Node: MED/ Universidade de Évora
Region: Alentejo
Coordinator: Isabel Velada